You didn't workout hard enough (or at all) and you ate like shit for a long ass time – that's how you ended up here. Don't make excuses about poor genetics… blah blah blah.
You're skinny-fat – fix it.
BMI doesn't mean much. Use it carefully.
Some people are under the illusion that they aren't skinny-fat at all. Let's clarify.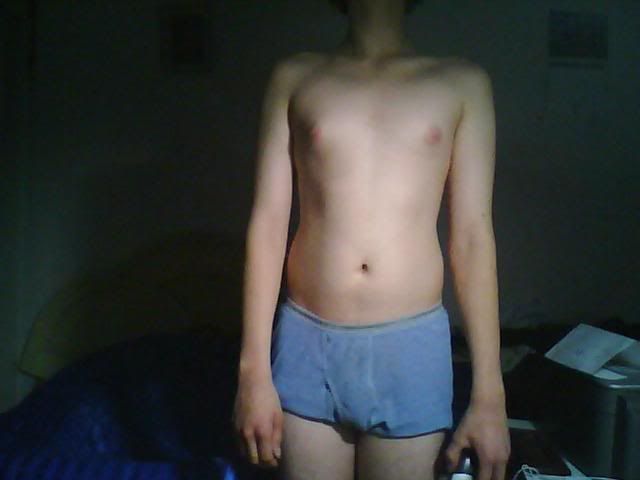 Skinny-Fat: You may appear skinny, but
your body-fat percentage says otherwise.
How do we define what skinny-fat really is? It can be described in a few different ways and everyone has their own definition. The best way I like to describe it is someone who lacks strength (read: under-muscled) and has a high body-fat percentage.
To be more specific, you may be skinny-fat if you are above 15% body fat / 25% for women.
In regards to strength, I personally like to use the chin-up or push-up as a strength gauge. There is a good reason for this. Untrained or under-trained men and women generally lack the coordination or experience to safely do complex movements like the bench press, squat or deadlift. Also, people genetically differ in capabilities with these movements. In my experience, the chin-up and push-up can be universally done by most trainees – men and women alike; poor form on chin-ups or push-ups is not as dangerous. You can generally gauge strength level by how many and how well chin-ups or push-ups are performed.
I generally look for:
This is a guideline and isn't written in stone. If a guy can do 5 chin-ups but isn't doing a full range of motion that's a fail for me… likewise, for women, if they can manage 5 push-ups but their hips are almost touching the floor – that also is a fail. Be smart, use these guidelines with discretion!
One of the best and easiest ways to
assess body-fat percentage is with
the use of body-fat calipers.
$4 Calipers vs $60 BodyFat Scale… hmmmm, tough choice!
Don't get me started – pinch the fat, tubby.
Here are some common skinny-fat issues and the approach to remedy the skinny-fat physique…
Results take time.
Don't do this – stay motivated. Just because the guy you follow on the internet got ripped in 8 weeks doesn't mean you will too. Work at your own pace and your own experience level.
I always recommend on taking before and after pictures and measurements to stay motivated – especially if you're new to training (< 1 year). In fact, for women, I insist they do so since body changes occur much slower in women than men; generally speaking. Women are also more sensitive to readings on a scale than things like waist circumference or body-fat percentage.
Bottom line - pictures help.
This means not training at all or training ineffectively for your goals.
This could mean jumping on the treadmill for an hour and calling it a day because you read that 'light cardio burns fat like crack'. Or doing that workout you read about in a bodybuilding magazine 'whenever you get the time'. Sorry - that shit doesn't fly.
Undertraining is not only doing too little exercise but it could also mean doing exercise that is ineffective for your goals.
Don't be a sissy and train consistently. Women: this goes for you too.
Don't let me catch you with 2 lb pink dumbbells.
ladies, this goes for you too.
This is the other side of the coin. Exercising too often or frequently doing exercise that is extremely taxing to the CNS (without proper recovery). A true state of overtraining is honestly pretty hard to achieve.
Like doing power training 6 days a week.
Or a full-body high-rep / high-volume "pump" routine 5 days a week.
I don't care what your diet is like – you will get nothing but injuries from this type of routine. It is not sustainable unless you are on some serious juice.
Get used to looking at these.
"I slam, like, mad protein shakes, bro!" is not an answer to "How much protein are you getting?" These types of trainees are nightmares to work with.
Oh – you didn't realize that the frozen burger patties you were eating had carbs??? (usually a 'What the fuck?' moment)…
YEA… that's because they're full of filler.
This is by far the most frustrating part dealing with these kinds of people. They don't listen and they're lazy.
The best physiques in the world were not made by guessing calories.
I'll admit - I used to be guilty of this myself.
The key here is not to do excessive cardio (unless you actually enjoy it), but to build muscle which will help burn fat faster while keeping you looking great. In fact, cardio becomes more effective at burning fat when you have more muscle on your frame.
Keep in mind - it is 110% possible to get absolutely shredded without any cardio at all. There is a time and place for cardiovascular conditioning. However, as a skinny-fat individual, it should not be your primary concern – keep it to a minimum.
Most skinny-fat guys I deal with want "jacked arms" and "ripped abs". Guys look up routines of professional bodybuilders and pump away at 'light' weights.
*facepalm*
*facepalm x 2*
Compound movements. Heavy weight. Good form. These should be of primary concern – we are looking to add muscle in the most efficient manner (i.e. most muscle in the least time). These are also the things that will boost metabolic rate and aid in fat loss while keeping you sexy.
Supplements should replace
whole food meals.
Don't rely on supplements for performance. The only supplements that work for most people are protein powders, multivitamins, fish oil, BCAAs and creatine. That is all.
In my experience:
Lesson: don't waste your money – the best supplements tend to be the least expensive (e.g. creatine). People are always looking for the *next best thing*; don't be fooled by clever marketing. Do your research if you do choose to take a supplement.
You don't want a training partner
like this
Get a training partner. They don't have to be doing the same program as you; though, it does help if they have the same or similar goals. They're just there as someone who you can go to the gym with and from whom you can get the occasional spot. Being accountable to a good gym-buddy will provide motivation to workout when you least feel like it.
Don't pick a judgmental or egotistical gym buddy.
Skinny-fat trainees are notorious for wanting to expedite their progress. They are known for not sticking to a particular program for an extended period of time. If you have chosen a training and diet program… stick to it - at least for the recommended time-frame.
Don't switch to the next greatest program when it comes along.
Don't attempt programs beyond the scope of your understanding.
Do research on a program before starting it.
Have the discipline to adhere to the program you have chosen.
Every trainer you meet will have a different protocol in addressing the skinny-fat client. Keep in mind that there is no single solution to the problem.
Skinny-fat trainees carry a large amount of fat and a small amount of muscle. Cutting can be a great start. However, attempting a cut with a slow or broken metabolism is a painstaking process that usually results in a weaker, more miserable trainee in the end – who, by the way, is probably still under-muscled. Cutting is fucking painfully difficult without a decent amount of muscle mass to aid in fat burning.
The idea behind bulking a skinny-fat trainee is to increase the amount of muscle mass that he or she carries. This theoretically helps with subsequent fat loss by increasing the fat burning potential. A great theory which may work for some, but the science behind it may lead us to believe that it is a sub-optimal process. As mentioned in the previous option, extra body-fat hampers muscle gains.
When skinny-fat people bulk - it's usually dirty.
Adipocyte hypertrophy occurs when we consume a daily surplus of calories for an extended period of time – no way around it. This makes us fatter. Simple enough. Just diet to shrink them down right??
The idea behind recomposition is to lose fat and gain muscle simultaneously. Yes – it is possible. No – I'm not making it up. Yes – I've tried it. And, yes – it works.
The method itself involves carbohydrate cycling in conjunction with calorie cycling. It poses some key benefits that were issues cutting and bulking:
Martin Berkhan of Leangains recommends eating 20% above maintenance on workout days and 20% below maintenance on rest days as a standard starting point. The skinny-fat trainee (above 15%bf men, 25%bf women) can really afford a much larger deficit on rest-days to expedite fat loss while maintaining or gaining muscle with ease. Depending on training level the calories on training days can be adjusted accordingly. Someone with more muscle would obviously need more calories in conjunction with training.
| | | | |
| --- | --- | --- | --- |
| bf% (Men/Women) | Training Days | Rest Days | Refeed |
| 12-14%M / 22-24%W | +10% | -30% | Training Days |
| 15-18%M / 25-28%W | 0% | -30% | Once per 7 days |
| 19%+M / 29%+W | -10% | -50%M / -30%W | Once per 10 days |
For women, you will notice the deficit is not as deep on rest days – this is to ensure that there is and adequate intake of protein during these days. If a skinny-fat female trainee (or some smaller men) with 30%bf and a maintenance value of 1,900kcal were to cut rest-day calories by 50% it would result in having to eat fewer than 1,000kcal per day which I would not recommend for either sex. Protein and fat intake become difficult to maintain at this level. I usually recommend staying at 1,200-1,500kCal as the minimum.
Refeeds should involve eating above maintenance, minimizing fat intake, and maximizing carbohydrate intake. As a rule of thumb, stick to starchy carbohydrates before having sugary treats. For example, fill up on bread, pasta, rice, or cereal before having the low-fat ice-cream, donuts, etc.
Don't make the scale your only measure of
progress.
The things you include in your weekly evaluation are (in order of most-to-least important):
For answers to more specific questions or something I have not covered that is of interest to you, comment on this post, tweet or email me.